Mother's Day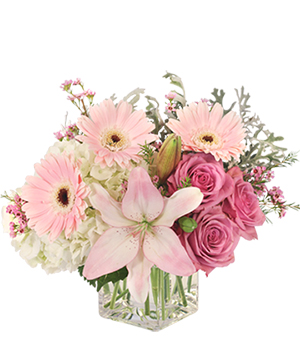 Quiet Dawn
Bouquet
Just as the sun begins peeking over the horizon, delicate ribbons of pink marble the sky and a hush falls over the world. Soft pink gerberas and roses whisper gently in the dawn of a new day and pink lilies awaken the senses with their sweet scent. Quiet Dawn embraces the beauty of new life and tokens of gratitude.
Mother's Day is a special holiday for any family and EXPRESSIONS FLOWERS & GIFTS in NIAGARA FALLS, ON has unique gift ideas that are sure to make any mom smile.
Remember Mom on her special day and send her a bouquet of her favorite flowers. Top it off with a balloon bouquet to tell her just how much you love and appreciate her this Mother's Day. Add an extra gift of relaxation with spa and bath products from Upper Canada Soap and Candle Company. Or send Mom one of the beautiful keepsake gifts that we offer including picture frames, candle holders, angel figurines, teapots and coffee mugs.
Browse and order Mothers Day flowers and gifts online, call us for more ideas, suggestions & special offers or stop by our beautiful store to shop & place your order in person! EXPRESSIONS FLOWERS & GIFTS in NIAGARA FALLS, ON is your #1 florist for all your Mother's Day floral and gift needs.